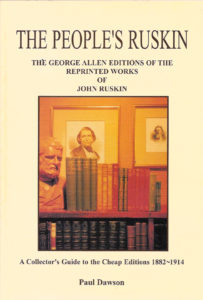 THE PEOPLE'S RUSKIN
The George Allen Editions of the Reprinted Works of John Ruskin: A collector's guide to the cheap editions 1892-1914
Paul Dawson
The George Allen reprints of John Ruskin's works have for some years been the popular choice of many new Ruskin readers, as well as having a place on the shelves of established collectors. Few have appreciated the importance of these editions in making Ruskin's writings available to the rising readership of the late nineteenth century – who until then had found the price of his works prohibitive – and the part George Allen played in meeting the demand for the resurgence in interest following Ruskin's death in 1900.
Even seasoned readers have found difficulty in establishing the extent and range of the titles published between 1882 and the demise of George Allen & Sons in 1913.
Here, in one easy to follow reference work, are listed all the titles and publication dates of The Uniform Edition, The Pocket Edition, The Popular Edition, and the World's Classics Edition, along with information on some of the smaller gift and presentation editions of that period.
This book is an essential guide for anyone interested in John Ruskin, George Allen, and nineteenth century publishing.
Oxenbridge Press, 1999.
Oversize A5 Paperback, 60 pages with illustrations in the text.
Price £8 plus £1.25 UK postage.
ISBN 0-9535377-0-6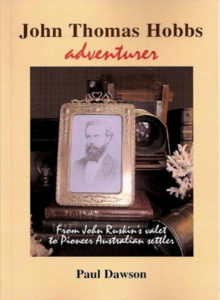 JOHN THOMAS HOBBS, ADVENTURER
From John Ruskin's Valet to Pioneer Australian Settler
Paul Dawson
This is the fascinating story of John Hobbs, who as a young man was employed as Ruskin's valet and travelled with him several times in the 1840s and 50s when his role extended to companion, secretary, draughtsman and image maker with Ruskin's Daguerreotype camera, thus making him one of the earliest Englishmen to use this equipment.
The story begins with Hobbs's journeys and association with Ruskin, and contains a great deal of previously obscure or unpublished information.
Hobbs left Ruskin's employ upon marriage and migrated to Australia and faced many adventures as an early pioneer settler, farmer, prospector and land agent, enduring personal tragedy and hardships along the way before his effort and determination eventually gave him his respected place in Australia's history and the development of New South Wales.
A heart-warming tale of endeavour!
Reviews:
"Dawson's tireless research has now opened up for us the story of Hobbs's life. This is a fascinating, as well as important, publication, and I urge all who are interested in Ruskin and his circle to obtain a copy."
Dr J.S. Dearden: Ruskin scholar, author, and former curator of the Ruskin Collection and past Master of the Guild of St George.
"Dawson weaves this charming story who threads from the Library Edition, unpublished letters, and family documents [and] added some brighter colours to our picture of those whose lives Ruskin touched."
Dr Stuart Eagles: The Companion, the journal of the Guild of St George, and author of several Ruskin Studies.
"I highly recommend this readable and attractive book … No longer is Hobbs seen merely in relation to Ruskin, but as one of the founding fathers of Australia, where he is remembered today in Hobbs Point and Hobbs Bay in the Wagonga area of New South Wales."
Dr Cynthia Gamble: Author and Ruskin scholar, expert on Proust and international lecturer.
Oxenbridge Press, 2011.
A5 Paperback, 80 pages with illustrations in the text.
Price £8 plus £1.25 UK postage.
ISBN 978-1-9998746-1-2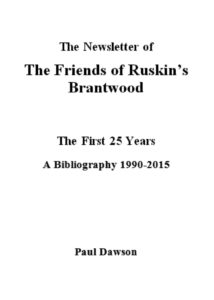 The Newsletter of The Friends of Ruskin's Brantwood
THE FIRST 25 YEARS
A Bibliography 1990-2015
The bibliographical listing is introduced with a history of the newsletter that tells how the activity of the growing membership resulted the successful evolution from photocopied sheets to a full colour journal.
More than 160 articles with a firm Ruskin link are listed in the bibliography, all of which were published between 1990 and 2015.
With a span of more than twenty-five years, new members signing on might never have the opportunity of catching up on what has 'gone before' in the newsletter if the 'old' content is not made accessible, and much of it is far too significant to be forgotten.
This useful research tool was prepared for the members of the Friends of Ruskin's Brantwood. A small number of copies are currently available, from which all proceeds will be passed to Brantwood.
Oxenbridge Press, 2015.
A5 stapled booklet, 20 pages of text.
Price £2.50 plus £1 UK postage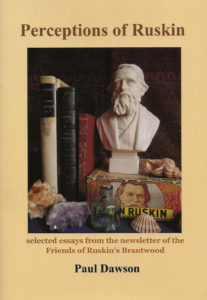 PERCEPTIONS OF RUSKIN
Selected essays from the Friends of Ruskin's Brantwood newsletter
Paul Dawson
This book examines some of the varied perceptions of Ruskin, with a selection of essays first published in the newsletter of the Friends of Ruskin's Brantwood, revised and enlarged. It looks at places and organisations that have been named after Ruskin; various perceptions of Ruskin by his contemporaries; and the use of his name in marketing.
All proceeds from the sale of this book go to support Brantwood
Reviews:
"What treats lie in store for us in Paul Dawson's Perceptions! Part of his book could be used as a travel guide, taking us in the steps of Ruskin to places in Sussex and Cumbria. Dawson makes magical connections on his journeys, all connected in some way, directly or indirectly, with Ruskin."
Dr Cynthia Gamble:  Author and Ruskin scholar, expert on Proust and international lecturer.
"This collection presents a series of well-polished gems, many of them from the Friends of Ruskin's Brantwood Newsletter, but given added sparkle here. They are all studies in Ruskin's multi-faceted influence and combined they give a sense of the breadth and depth of Ruskin's reach into unfamiliar and intriguing quarters. It is essentially split into three themes—places, books, and portraits—but with some crossover between them, and all the stories are brought to life by the fascinating Ruskinian characters involved … As usual with Dawson's writing, there is a seriousness of purpose in this volume combined with a lightness of touch and a dedication to meticulous research."
Dr Stuart Eagles:  Independent writer, and author of several Ruskin Studies.
Oxenbridge Press, 2017.
A5 Paperback, 76 pages with coloured illustrations throughout the text.
Price £8 plus £1.25 UK postage
ISBN 978-1-9998746-0-5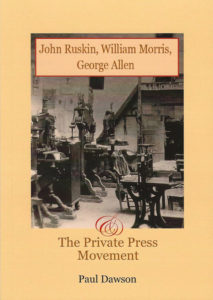 JOHN RUSKIN, GEORGE ALLEN, WILLIAM MORRIS & THE PRIVATE PRESS MOVEMENT
Paul Dawson
The illustrated text of a lecture presented at a conference held at Roycroft, East Aurora, New York in September 2019 to celebrate John Ruskin's bicentennial year. It has been augmented to include a chapter on Roycroft's rich history as an important American arts & crafts centre, and is reprinted in response to requests that the content might reach a larger audience.
Richly illustrated in colour throughout.
Oxenbridge Press, 2019.
A5 Paperback, 36 pages with coloured illustrations throughout the text.
Price £5 plus £1.25 UK postage
ISBN 978-1-9998746-2-9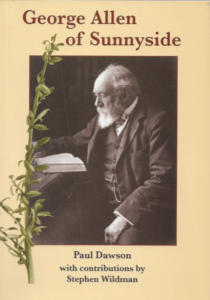 GEORGE ALLEN OF SUNNYSIDE
Paul Dawson with contributions from Stephen Wildman
Published to accompany an exhibition celebrating the centenary year of George Allen in 1907, this book tells of Allen's life and work with John Ruskin. It covers his early years, his meeting with Ruskin and his achievements as publisher as well as his skills as a draughtsman, engraver, and collector. It also tells the story of 'Sunnyside,' his Orpington home and details the practises of 19th century printing and publishing.
Published by The Ruskin Library, Lancaster University, 2007.
A5 Paperback, 80 pages with illustrations in the text.
Price £4.95 plus postage
ISBN 978-1-86220-195-8
Available from the Ruskin Library at https://www.lancaster.ac.uk/the-ruskin/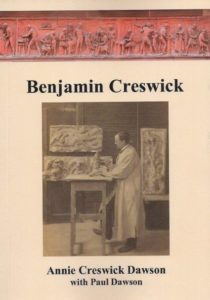 BENJAMIN CRESWICK
Annie Creswick Dawson and Paul Dawson
Annie Creswick Dawson is the great granddaughter of Benjamin Creswick, the Sheffield knife grinder who became a sculptor under Ruskin's patronage and enjoyed a successful career at a time when the Arts & Crafts movement was in the ascendancy. His reputation brought a string of successive commissions and he eventually became an establishment figure, heading the department of sculpture at the Birmingham Art School and becoming a Professor at the Royal Birmingham Society of Arts. Annie Creswick Dawson has been researching her great grandfather's story for many years, travelling thousands of miles to search libraries and archives to compile as much as can be found to support Benjamin Creswick's life story. This is in addition to her quest to locate all the surviving carvings, terra cotta sculptures, bronzes, friezes, commercial and municipal wall decoration, metalwork and so much more.
Reviews:
"Annie Creswick Dawson, with help from Paul Dawson, … has written a biography of her great grandfather Benjamin Creswick. It is a concise and elegant story of his connections with John Ruskin and their influence on teaching and education."
Dr Kay Walter, University of Arkansas.
"This plentifully illustrated book leaves us in no doubt about Benjamin Creswick's rich legacy … [and] serves as a warm tribute to [Ruskin and Creswick] equally."
Dr Jaqueline Banerjee, Associate Editor, The Victorian Web.
"This is an excellent short biography … well-designed and copiously illustrated"
Prof Stephen Wildman, Director of the Ruskin Library and Research Centre, University of Lancaster.
Published by The Guild of St George, 2015.
A5 Paperback, 64 pages with coloured illustrations throughout the text.
Price £10
ISBN 978-0-9932009-3-9
Available from the Guild of St George at  https://www.guildofstgeorge.org.uk/guild-shop
or enquiries by post: Peter Miller, Guild of St George Publications, 10 St Oswald's Road, York, YO10 4PF
The Guild of St George has many other Ruskin-related titles that you may find interesting on the publications link.
SALES AND POSTAGE
The Oxenbridge Press welcomes orders for single volumes or bulk purchases.
Postage of single volumes to a UK address £1.25
For multiple copies or mailing overseas, postage is charged at cost.
Please request cost before ordering.
For titles not published by the Oxenbridge Press please use the link to the publisher or supplier for ordering and postage costs.